Save on Security Costs
Security window films can provide store fronts with solid protection from smash-and-grab thieves. They may smash, but they sure can't grab. Security window films coat the window and prevent the glass from shattering into pieces making it increasingly difficult for the potential thief to enter the building. Tinting your retail store windows could prevent a potential robery.

Save on Productivity Costs
Every business wants its employees to be comfortable in their work place. Window tint will keep them cooler and will spare the glare, allowing them to see their computer screens without hassle. Less headaches and disruption in the work flow equals increased productivity.

A lot of offices today have interior glass. Designer films can give the appearance of frosted glass to ordinary glass and turn a public space into a private place. Decorative frosted window films can provide privacy or eye appealing designs to your workplace.

Save on Protection Costs
Security films can also give protection to businesses from hurricanes and raging storms.
Older office buildings can be given an instant architectural face-lift with window film.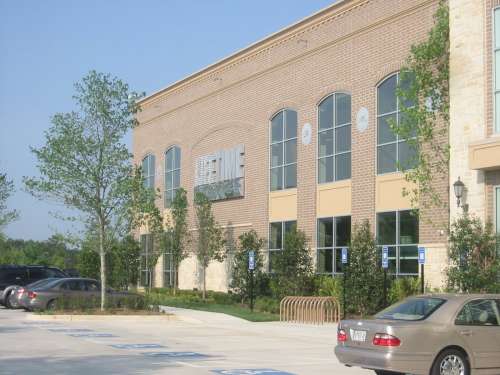 Next time you are running on the treadmill at Lifetime Fitness, think about the view through the windows and run comfortably knowing the tint installed by Oasis is protecting you from the glare on the sun and preventing UV rays from burning your skin. The window tint allows this fitness center to have a large open section of window letting in just the right amount of natural light and views from outside while keeping you comfortable inside. Cooling the gym is no easy task either, but with protective window film installed we are helping them keep the heat out. Keeping customers cool, comfortable, and preventing the glare on those televisions so you can watch while you work out. Next time you need windows protected, consider these examples of our tint installation expertise and give us a call.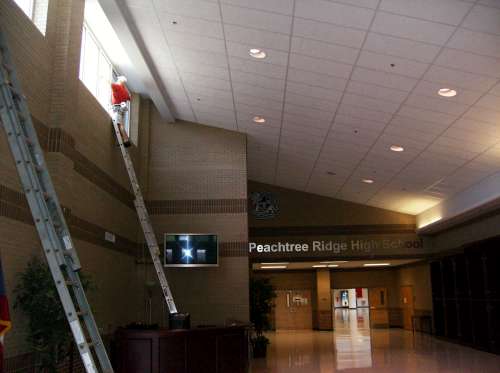 What could be more important than keeping your children safe and comfortable at school? Ease your mind by knowing that the installation experts at Oasis have coated the windows at Peachtree Ridge High School helping the kids stay protected from the sun's harmful rays and the distracting glare. Not only keeping them comfortable but keeping them safe by protecting them from any potential shattered glass falling from this high window during a possible storm. The window film protection will prevent the glass from shattering and potentially injuring students. When your kid's safety and comfort are a concern, call the experts to install a protective window tinting film on your daycare, school, nursery or hospital. Keep them comfortable, keep them safer. Give us a call today.